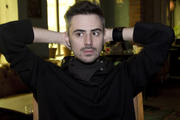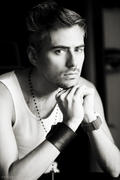 Encontré una entrevista muy copada a Anton Sevidov en Synconation.com, donde habla mucho del contexto y la estética de Tesla Boy. Un extracto:

Synconation: Art and design seem to play a heavy hand when it comes to what Tesla Boy is all about. Your releases feature art from international studios such as DW Design (the Tesla Boy EP) based out of Sweden and Mogollon (Modern Thrills, Tesla Boy's debut album) based out of New York City. What sort of input do you give in terms of art direction for your albums?
Anton Sevidov: We saw a poster for our friend's party in Moscow which had been designed by DW. I was also very impressed by Killian's artworks on his Myspace page and then I had a strong feeling that this guy could do exactly what we needed for Tesla Boy. All this incredible neon and bright 80s colors at the same time on a dark background.